Detection and quantification of fetal red blood cells (fRBCs) in maternal blood samples is essential for obstetrical management. Measurement of fRBCs is critical as the extent of fetomaternal hemorrhage (FMH), the transplacental passage of fRBCs into the maternal circulation, has consequences for further treatment of mother and child. Frequency and size of FMH is directly influenced by complications in abdominal trauma, suspected placental injury or after a caesarean section. Severe FMH may lead to intra-uterine death. In case of antigen incompatibility between mother and child FMH may result in respiratory problems or anaemia, like Haemolytic Disease of the Newborn.
Adult RBC's contains a population of HbF (F-cells), which can be differ between 0 and 14%. The F-cells can give a positive result in the Kleihauer-Betke acid-elution test or single HbF flow cytometry test. These F-cells may be the result of physiological variations during pregnancy or traits such as thalassemia, sickle cell anaemia or hereditary persistence of fetal haemoglobin.
The detection (and thus enumeration) of fRBCs is used to calculate the extent of FMH, either in case of trauma with suspected placental injury or in the situation of a RhD incompatibility between the fetus and the mother. The amount of fRBCs is a measure for the prevention of hemolytic disease of the newborn using (prophylactic) anti-D therapy.
The Fetal Cell Count™ Kit assay is a flow cytometry product. The assay is based on a  combination of two antibodies patented by IQ Products. One is directed against HbF while the second is specific for Carbonic Anhydrase (CA), an enzyme present in adult RBCs and, at very low detectable level, in late pregnancy stage.
Results within 90 minutes
Accurate detection of fetal RBCs
Distinguishes between fRBCs, maternal F-cells and RBCs based on intracellular detection of HbF and CA
IVD/CE
| | | |
| --- | --- | --- |
| Size | Product code | Regulatory Status |
| 25 tests | IQP-363 | IVD/CE |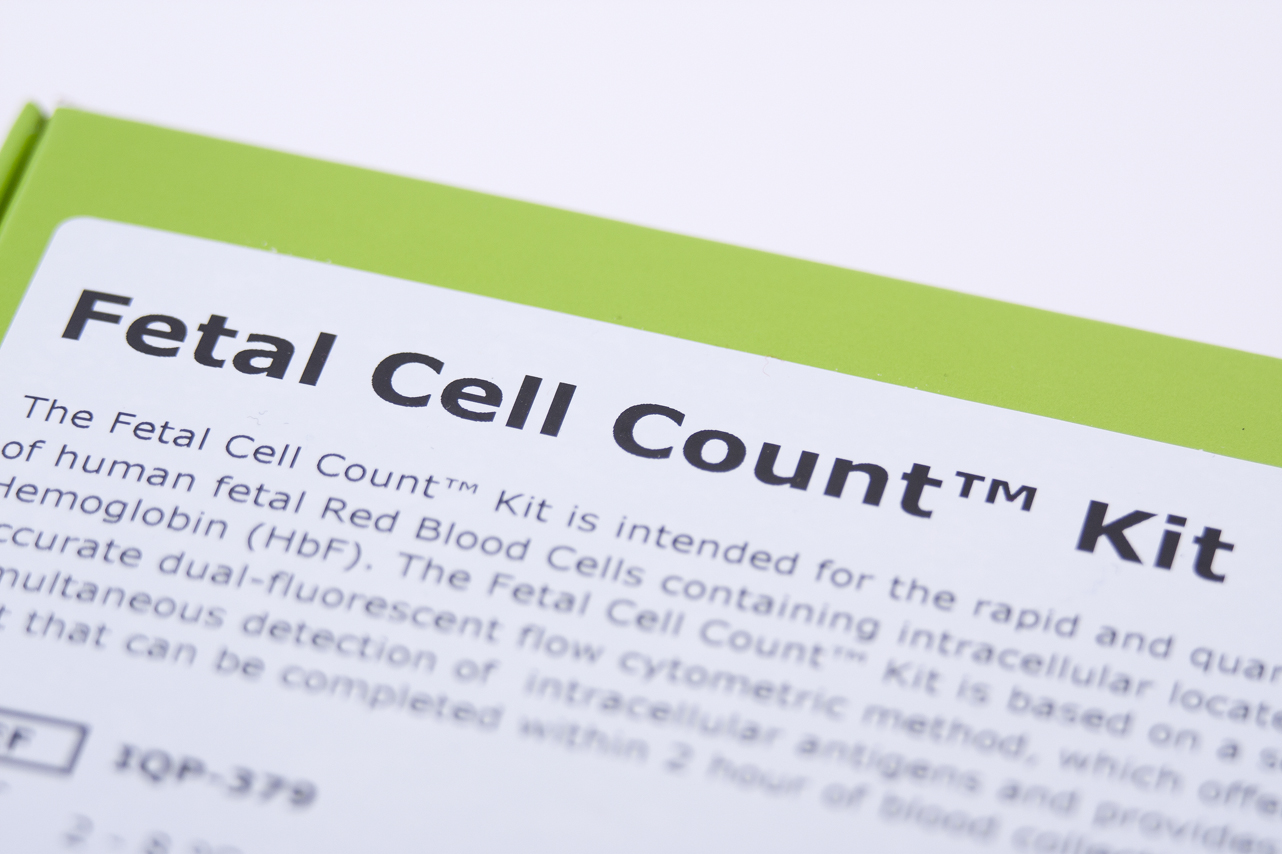 References:
Valérie Porra et al,  Identification and quantification of fetal red blood cells in maternal blood by a dual-color flow cytometric method:evaluation of the Fetal Cell Count kit, Transfusion, 2007;47:1281-1289
Liesbeth Bakker-Jonges et al, The Detection of Foetal Red Blood Cells in Maternal Blood Samples by Dual Flow Cytometry, Haematology, 2008, 58-60
Marek Lubusky et al, Fetomaternal hemorrhage in normal vaginal delivery and in delivery by cesarean section, Transfusion, 2012
Waltraut M Merz et al, Dual-colour flow cytometry for the analysis of Fetomaternal haemorrhage during delivery, J Clin Pathol, 2012;65;No 2:186-187